Singer-songwriter Campbell Woods will shortly release his debut album, "Oxford Street."  However, if he had not explicitly told me it was his first project, I would never have guessed… this is a polished, seasoned collection of songs, and should make any fan of story-driven songwriting eager for more from this talented artist.
Woods, who has honed his skills for several years in live venues across eastern Canada, has a great group of stories to tell, and he tells them beautifully: "Blood Is Thicker Than Water," in which words don't always measure up to actions, and "Under the Canopy," a lovely ballad enhanced by a terrific string arrangement, are just two examples from the eight excellent songs here.  Jadea Kelly also appears on the album, paired with Woods on "Teardrops on the Table (Ink Stains on Your Hands)," a waltzing, aching song of failed love gone tragic.
Campbell recently took some time to talk with us about his new album and upcoming tour.
---
A number of the stories in your songs speak to love gone awry – a child whose mother loves the other child more, the spouse who should leave but can't.  Is it easier to write about the darker side of love than the lighter one, do you think?
I do find it easier. I think when you peel back the layers you're usually left with the dark stuff. It doesn't really work the other way around. But there's something cathartic about acknowledging and affirming the difficult parts of life. So I don't know if I'd use the word "dark."
Have you worked with Jadea Kelly before?  How did the duet "Teardrops on the Table" come about?
I had never worked with Jadea before recording "Teardrops on the Table," and it was a great pleasure. She added so much emotional firepower to the recording. I wrote the song while I was listening to John Doe and The Sadies' version of "The Cold Hard Facts of Life" a lot. I was into this idea of the murder ballad. Something unabashedly tragic. It's the only time I've written a song by starting with a rigid idea and then figuring out the details along the way. Usually I start with one, maybe two details if I'm lucky, and then try to work my way out from the middle.
Brian Kobayakawa, who produced the record, had the wise idea of recording the song as a duet. I'm very thankful for that idea, because Jadea's ability to convey sorrow and wistfulness through her singing took the song to an infinitely more interesting place.
Your website talks about musicians like Townes Van Zandt and Gram Parsons as your inspirations… from what sources do you draw your ideas for songwriting?
My inspiration often springs from the work of other artists. Listening to Gram Parsons is a great reminder to cultivate your sense of humour and to not take yourself too seriously. But for me, Townes Van Zandt's songs represent a gold standard. Something about his style of writing gives the impression that the songs are just springing forth fully-formed. And it's not like he's trying to be some kind of every-person. Some of his writing is outright grandiose. "Silver Ships of Andilar" for example. But when he delivers his songs, they're so easy. He never gives you a reason to doubt him. I guess that's the thing that I'm after in my writing and that's what inspires me. Songs that are so complete they feel like they weren't written but just written down. I know I didn't just make that up. Who said that?
Another theme that runs through a couple of the songs on the album is that of the lover who feels unworthy – lines like "(I) could be some kind of better man," for example, in "If She Stays."  I would suspect this resonates for most of us but why does it do so for you?
With "If She Stays" I'm exploring the idea that romantic love includes a wide spectrum of emotions, good and bad. My default is to think of romantic love as all-happy, all the time. But that's a lot of pressure to put on yourself and another person, and that can raise the stakes up pretty high. It's untenable. You have to be able to absorb the complicated stuff and roll with it. Not that I'm any good at that, but the song is my way of saying that I wish I was.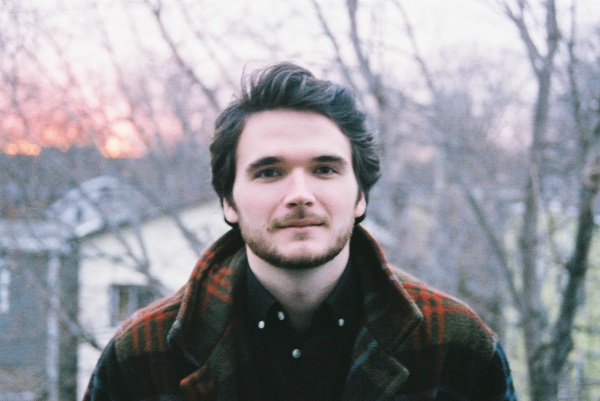 This is your debut album… hopefully we'll be talking with you again down the road about your next ones and the experiences you'll have making them (and we can refer back to this interview for comparison!), but tell us, what has making this first one been like?
I learned so much while recording this album. I really owe a lot to Brian Kobayakawa, who only heard a handful of my songs a handful of times, and decided to produce the record and embark on this journey with me. Thanks, Brian.
Everyone who worked on the record was incredible. The thing that stands out the most about the recording process was each musician's curiosity, passion, and determination to nail their part. Pros, right? I didn't know that going into it. I think I was expecting professionalism to equal a kind of impersonal efficiency. That could not have been further from the truth. For that, I am very grateful.
I've had some interesting conversations with folks on social media about the intersection of storytelling and songwriting (beginning after Dylan's being awarded the Nobel for literature).  I'm curious to know how you see the two intertwining in your own work – does story drive song, or the other way around, or?
I'm of two minds on this. I have a real soft spot for the songs that you can strip back to nothing, maybe a voice and a guitar, and they'll still break your heart. Part of me feels like that's the true test. But that's a pretty narrow view. Music is just such a multitude of things, and I can't say with confidence why any of it works. I think there's something secret and personal about what makes a song resonate with you. I wish I knew what that secret was.
That said, in my own writing the words come first every time. Personally, I'm not interested in a song without a story.
If I recall correctly, you've been handling your PR and bookings yourself.  How difficult is it to balance the more grounded business side of your work and still find time for the creative part of it?
That's something I've been thinking about a lot lately. I haven't done a very good job at balancing it at all. These last few months have been less creative as far as writing goes. I've written one new song that I'm really proud of so that's something. I'm new to this, so the booking and the PR has become somewhat of an obsession out of necessity. I've turned into an email machine. All the dates for the upcoming tour are booked now though, so I'm spending less time on my phone and more time writing, writing set-lists, and learning some sweet covers. That's a good feeling, but I've still got that itch. I'm still on the lookout for the next booking. I've turned that part of my brain on and I have no idea how to turn it off.
You have a fairly extensive touring schedule lined up – what are you looking forward to the most about getting these songs out in front of folks?
I've been dragging my feet for a little while so I'm just excited to get rolling. I imagine there will be some challenges along the way but this is exactly what I want to be doing, and I am so grateful to be able to do it. Right now it doesn't feel like I could do anything else.
Upcoming Tour Dates:
04/29/17 @ Café Deux Soleils, Vancouver BC
04/30/17 @ The Foundry, Eugene OR
05/01/17 @ Stone Way Café, Seattle WA
05/05/17 @ Twin Butte General Store, Twin Butte AB
05/06/17 @ The Valley Social, Fernie BC
05/07/17 @ The Ironwood Stage and Grill, Calgary AB
05/10/17 @ The Needle Vinyl Tavern, Edmonton AB
05/11/17 @ The Root Community Emporium, Lloydminster AB
05/12/17 @ The Underground Café, Saskatoon SK
05/15/17 @ Urban Ground Coffeehouse, Swift Current SK
05/16/17 @ The Artful Dodger, Regina SK
05/17/17 @ The Ship & Plough, Gimli MB
05/18/17 @ The Times Change(d) High and Lonesome Club Winnipeg MB
05/19/17 @ From the Grind Up, Fort Frances ON
05/20/17 @ The Foundry, Thunder Bay ON
05/21/17  @ Gore Street Café, Sault Ste Marie ON
05/22/17  @ Fromagerie Elgin, Sudbury ON
05/24/17 @ The Working Class, Timmins ON
05/25/17 @ Raven & Republic, North Bay ON
~ L
Photo credit: Chesel Alexander
Visit Campbell Woods' website.