When we scanned the list of artists scheduled to appear at the 2023 Muskoka Music Festival, the name Clerel was not familiar to us – but after receiving strong encouragement from friends to seek out this Montreal-based soul artist, his name was quickly circled on our Sunday 'must-see' list. This decision proved fruitful, as Clerel delighted his audience with a 50-minute solo spot that was split between his stunning music and some wonderful tales of his personal music journey that steered him to his career path today.
Acknowledging this festival invitation, and grateful to perform at the Gateway to Muskoka, Clerel opened with his 2020 single, "Talking About Love," and very quickly demonstrated a smooth balance between his silky vocals and the tonality of his electric guitar – as vintage soul sounds burst from the speaker system. Progressing into "Story Of A Scar," a single from earlier this year, Clerel would pause following this number to address the audience. "Thank you, merci beaucoup. I currently call Montreal home, does anyone here speak or understand French," he asked. "I have a song in French, from an EP in French, which came out a couple of years ago. French, if you could not tell, is actually my first language, but when I started writing songs, the first came out in English, and I'll explain why later."
Delivering the dreamy "Le Tour" from his 2021 "Interlude" EP, Clerel continued the thread. "When I started writing songs, they all started coming in English first originally, because in another life I was a chemistry student at university. As part of a mission trip, I decided I wanted to go to Memphis. I was exploring racial relations in the United States as seen through the lens of a city like Memphis," he offered. "Memphis was where Martin Luther King was assassinated and that's where they have the National Civil Rights museum, among other things, but the place we went to that struck me was the American Museum of Soul Music."
"In the former Stax studio building – they had such wonderful artists – up until that point, I'd known about a lot of these artists and that kind of soul music from afar, because I was born and raised in Cameroon, and so even though I was exposed to some different styles of music, I hadn't known about American soul music that much," he continued. "The more I listened, the more I liked it. How had this been around for so long, but I only now heard about it?" Clerel would introduce an original tune titled "What I Like About You," one he wrote with the Stax sound and style at the core. "So, we talked through the rest of the night / And the morning it caught us by surprise / I wish the fund would never end / I wish the sun had other plans / Neither one of us was ready to say goodbye."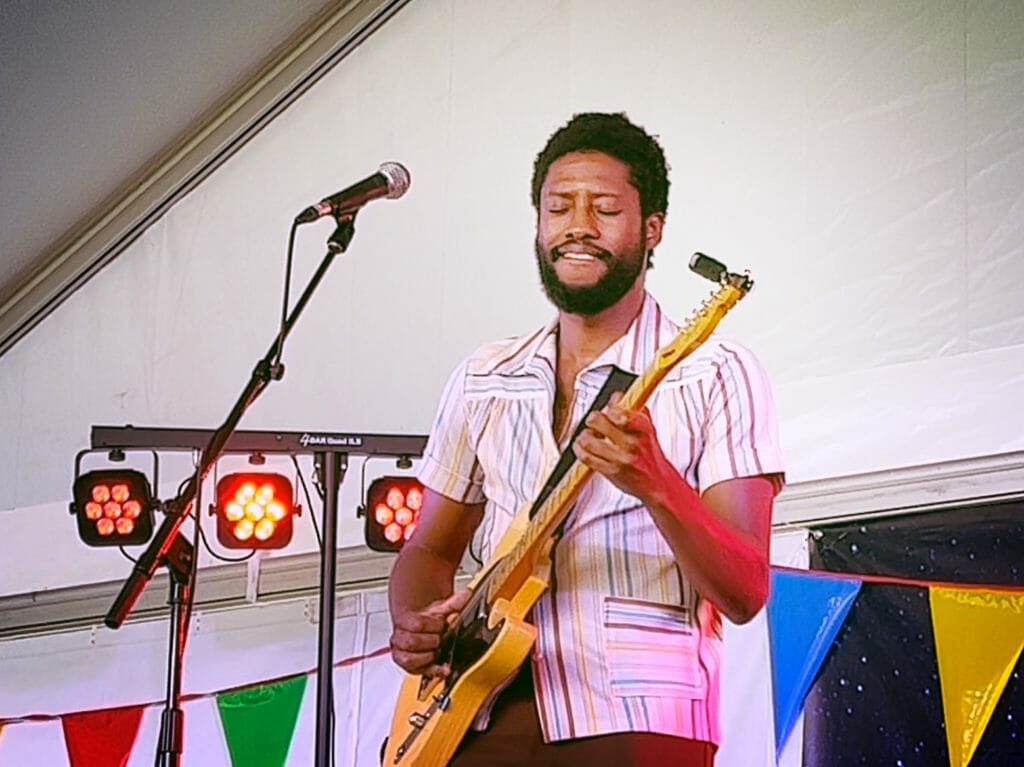 Following this tune, Clerel would perform a trio of covers, prefacing each one with why he chose each song and how his initial discovery of these songs further influenced his passion for music. "Shortly after that visit to the museum, I went back to school, and one night I'd open up YouTube and I came across this song." Cue the performance of "Cruisin'," a hit by Smokey Robinson. "I quickly forgot about my homework. I clicked 'Next' and this song came up. Clerel would perform "I'll Be Around," the popular hit from The Spinners. "And at this point, I was seriously reconsidering my choice of career," he added. "And this is where everything changes. The next video was just this guy sitting at a piano, with a nice white suit on, talking about black music and how it's used to express sorrow, joy, pain, understanding and so on and so forth. And then somebody hands him a microphone, and he just starts singing."
Like a master craftsman, Clerel paced his story perfectly, thus building the anticipation for what would be a truly remarkable interpretation of the Marvin Gaye timeless hit, "What's Going On." And once again, Clerel added one final statement to draw this conversational thread to a close. "At that point, I quit school," he stated. "Ha, no I didn't. And you want to know why I didn't quit school? Because I was from Cameroon, in central Africa. Quitting is something that just doesn't happen. You just don't do that."
Set List:
Talking About Love
Story Of A Scar
Le Tour
What I Like About You
Cruisin' (Smokey Robinson cover)
I'll Be Around (The Spinners cover)
What's Going On (Marvin Gaye cover)
Sing About You (sic)
Rainbow
Blackstone
Let There Be Love (Nat King Cole cover)
The British guy that crossed the ocean and crash landed in central Pennsylvania (to quote Greg Keelor, "And I wonder what am I doing here?"). As the youngest of four siblings, exposure to music from a very early age nurtured my passion and appreciation for many musical genres. Continuing to discover some amazingly diverse and talented musicians based in Canada, I gravitate to live music experiences and remain devoted to spreading the word about such a vibrant music scene.