The nomadic Hong Kong-born, and Canada-based indie-folk rocker Tennyson King releases his new full-length album, "Good Company," today. I was pleasantly surprised to see his previously released single, "Slow Down," on the album, and already having enjoyed this tune, I knew I would be in for a fabulous earful. Tennyson offers up eight new tracks that he worked on with JUNO-nominated engineer/mixer/producer Ross Hayes Citrullo (Julian Taylor, Samantha Martin), who helped create a polished finish while keeping Tennyson's original sound at the heart of the album. Darcy Yates also collaborated with Tennyson to help him explore and experiment with new musical arrangements and vocal talents. There is an undeniable depth throughout this collection and each song is a little personal journey.
"The past year was a bit intense as I had toured in Hong Kong during democratic protests, then went to Australia to tour during some of their biggest fires in a long time, then went into Vietnam for shows just as COVID was becoming prevalent in Asia. It just seemed like everyone was looking for answers but there weren't any, people seemed angry at the wrong things, and there was just a lot of hate and not a lot of peace and love," Tennyson shares when asked about his inspiration for this album. "I realized that there is nothing I could say to make anyone feel better or much I could do. I felt that all we can really do is slow down our pace of life, listen to each other, be there for each other, try to enjoy the small things, and do the small things to be kind to each other." I'm sure that I can't be the only one who can relate to this, especially with that last line? Lucky for us, a wonderful album came of out of King's year of slowing down.
The album opens with "Share This Moment," an upbeat tune that boasts of enjoying freedom, letting go, and sharing time with your favorite person. It's a testament to Tennyson's love of travel as he entices us to break out of the daily grind: "Lose control / Let it be / Let all your troubles disappear / Share this moment running in my dreams." This song quickly became one of my favorites, as it had me dreaming of taking a road trip in any direction away from my responsibilities. I feel this track also represents sharing a moment with Tennyson through his music.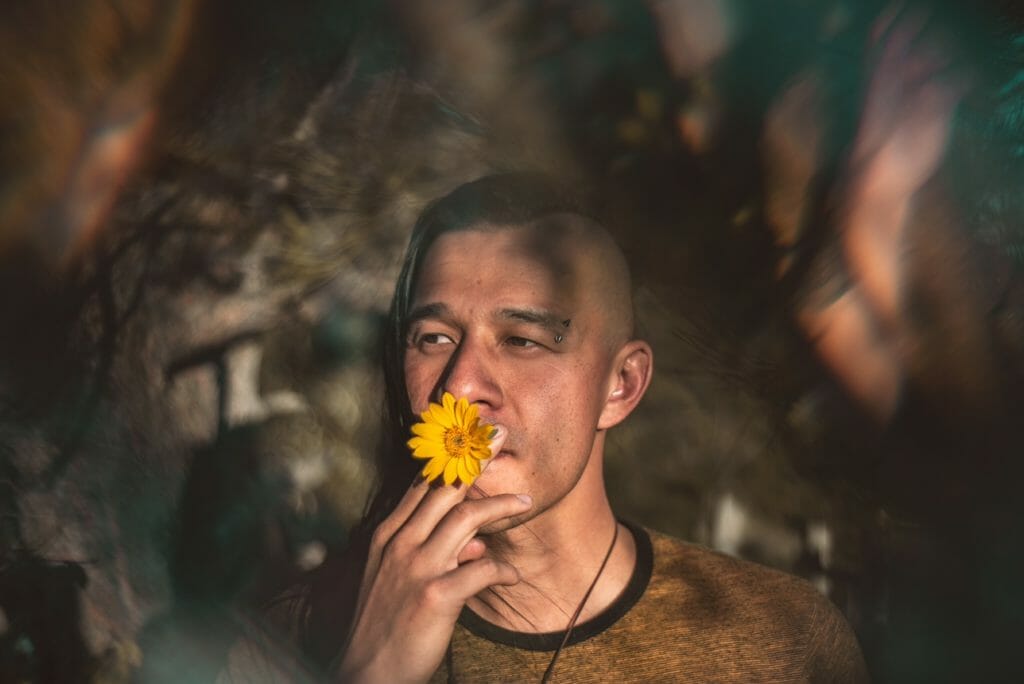 Skipping ahead brings us to his latest single, the rhythmic "It Ain't Easy," and while it delivers a positive message – and is easy to tap your foot to – this song was the product of an emotionally difficult experience. Tennyson opens up, "I felt pressure to have to fit in with the white Canadian music that was being made, the way the artists looked, acted, what they sang about, in order to have the same type of success they did," Tennyson adds further insight toward this particular track, "There aren't many ethnic musicians in my genre to look up to as stories of success. I found that I couldn't fully be myself because if I wanted to be successful, I couldn't be exactly how I looked and who I was."
As Tennyson delivers "It Ain't Easy," he's clearly no stranger to struggles, as most of us can relate, and offers words of encouragement throughout to emphasize staying positive and working through life's rollercoaster. I quickly found some favorite lines in this song that resonated deeply: "It ain't easy / When it feels like you can't be loved / Do you hear me / I love you with all I've got / You know I'm not the only one / It's shining on you like the sun." Sometimes all we need to hear is that we are loved and be reminded that we have people rooting for us; it makes all the struggles seem less daunting. Tennyson adds more background, "While writing this song to understand these emotions, I then realized that this had been a recurring theme in my life growing up in Canada as an immigrant. This is my anthem to deal with these struggles and to extend my hand out to others who struggle."
While we may not share the exact same struggles, "It Ain't Easy" connects listeners in their own interpretations of the music and how these ring true for their story. "Life isn't easy in the music industry or with any dream you want to achieve," adds Tennyson. "It's full of ups and downs, people who don't believe in you, but we need to acknowledge this, step out of our comfort zone and keep at it."
The album closes with the track "What Am I Doing?" – a story of Tennyson in a nutshell, so to speak. He sings of time passing while traveling to new places, driving, flying, and performing for strangers. Set to sway-worthy music, it was easy to close my eyes and sing along with this one, "Time keeps rollin'/ And I'm Jonesin' / For the main event to come / We're just living / For nothing / Is it easier for some / I keep moving / Searching / For that someone to take me home / … I feel good, 'Bout what I'm doing." I think we can all feel stuck from time to time in life, which is why I really enjoy this track. We keep moving in some way to fill the time while working towards bigger things. Most of us aren't "flying from ocean to ocean," but are still staying busy in our own ways while doing our own soul searching.
"Good Company" lives up to its name, with Tennyson's intention of having his music be like a friend in our ears. The whole album is enjoyable with a variety of appealing sounds and tempos. I recommend checking out his music videos too; Tennyson uses beautiful Canadian scenery throughout, and to top it off, has an infectious smile to go along with his soulful voice. Speaking of his voice, an honorable mention is the track "Loving You," which showcases Tennyson's range in a jazzy-blues style, worthy of a slow dance with your sweetheart. This artist is one to keep an eye and ear on; Tennyson King earned a well deserved spot in my playlist and I look forward to what the future holds for his talents.
Photo Credit: Savannah Bagshaw
Jess has always enjoyed a wide range of music genres and eras. Connecting deeply with classical music, she played cello from grade school through high school, and although no longer actively playing, her affinity for finding an emotional connection to music is still strong. Residing in central PA, she is new to the Canadian music scene and enjoys listening to new artists as a way to break away from "the usual." Jess is an avid yogi who often finds a sliver of peace while on the yoga mat with good music playing in the background.