Many of you are already familiar with my personal penchant for new music that comes with the tag 'retro' attached to it. Everybody has a fondness for music from their own past that continues to put smiles on our faces, and for me, when I encounter new music that pays homage to that musical past, I am only too happy to share my enthusiasm for it. And while bands such as Dear Rouge (BC), who truly redefined the whole synth-rock era, and The Sheepdogs (SK) with their audio and apparel nods to 70s rockers, The Allman Brothers, are the most obvious nominees for such honors, the last few years have seen many more burst onto the scene. The chic and nostalgic 70s pop vibes from Andy Shauf (SK), the 80s synth-rock vibe from Adam Baldwin (NS), and most recently, the funk-blues-rock throwback sounds from Toronto rockers, Zuffalo.
It was back in the summer of 2019 when Zuffalo first crossed our radar, prompting the inclusion of their track "Loose Cannon" in one of our recurring 'Snappy Singles' features, and I recall enjoying the guitar-driven, uplifting psychedelic rock that was peppered with folk and pop-based melodies and harmonies. As you know, those features are short teasers of new music, yet in the limited editorial space, I managed to throw out buzzwords such as epic, thumping, unadulterated, and energetic in one paragraph alone to describe their unique sound. Fast forward back to the present, and prepare yourself for the release of "Birdbrain," the sophomore album from the band that drops today. The bold font added to the previous sentence is necessary, believe me, because I was not at all prepared for the sonic experience when undertaking my first spin of the album. As an emerging band, this album could easily hide beneath your musical radar, but once discovered, there's no turning back. Trust me, once you hear "Birdbrain," you may not listen to anything further for the remainder of the month, but choose instead to keep this on repeat.
Comprised of Kim Manning (keyboards/vocals), Sean Steele (guitars/vocals), Mikey Vukovich (bass/vocals), and Eric Vanier (drums), the band recorded this album live off the floor in a barn in Baden, ON, just outside Kitchener, where beautiful sunsets, amazing meteor showers, and the peacefulness of nature around them became part of their inspiration to create this collection of new songs. "From the wood of the studio space, to the acoustic piano, vintage gear like the Fender, Rhodes, and Hammond B3, roomy drum sound, tube amps and acoustic guitars, we want the music to breathe with warmth like many of our favourite albums," they share. "Although we record digitally, there is a desire to emulate some of the warm acoustic qualities of tape, and by recording live off the floor we hope to capture the feeling of the room as we all played together." With nine new compositions being shared today, Zuffalo recite their stories over guitar-driven, funky and entrancing grooves, with exciting solo sections sweeping in and out on an album that they describe as "a kaleidoscope of TONE!"
Kaleidoscope is definitely a valid definition, as there is so much going on here, both in terms of the outstanding musicianship and sound, and to the influences from past generations that clearly shine through – whether intentional, or just similarities I detect from my own music library. From my initial spin alone, I picked out frequent nods to seventies rock (Led Zeppelin, Allman Brothers), but also found some crafty hints of eighties music in there too. "In Another Time," for example, has a post-punk synth vibe that draws comparisons to Deborah Harry, thanks to Kim's indie-pop vocal delivery. There's a definite post-disco, funk-reggae party going on during "Tropics and the Torrid," yet Mikey's soft, breezy vocals could easily fool you into thinking you'd stumbled on an undiscovered Paul Simon number. Listen extra carefully to the album, and you'll discover sprinkles of sax-driven soul, and even a little Tijuana brass too. A friend of GDW also suggested sounds from 'the Monkees era' when listening to some of the tunes from their debut album, which is also pretty fitting and demonstrates Zuffalo's versatility. Yes, a Kaleidoscope of musical influences indeed.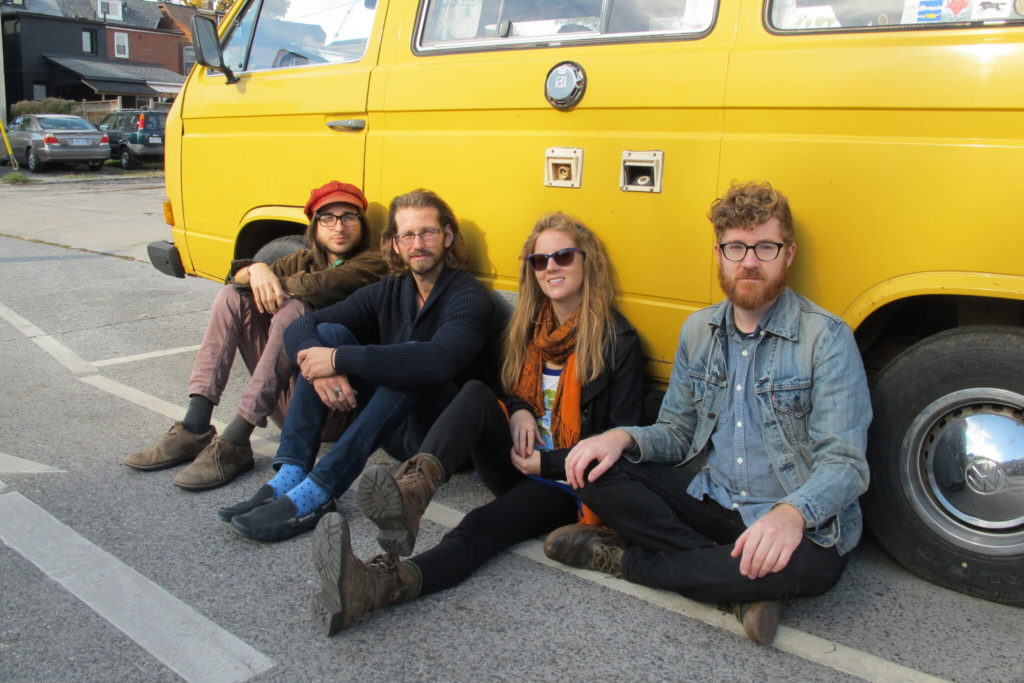 Zuffalo recently shared "Can You Run Out?" as a single prior to this full album release, which is a perfect example of their funk-driven sound being purposely interrupted by those Allman Brothers guitar rings one moment, then some brief Bohemian Rhapsody harmonies the next.  This single was written by Sean during lockdown in Ontario, and is about longing for human connection: "We're all a little bit lonely / Even with someone else / It may be better to die / Than to rot on the shelf / Maybe what's missing is money and hope / Clean liquor and free dope / A party that never ends / Reasons to get out of bed."  The song was also particularly inspired by John Lennon's "Walls and Bridges" record from 1974.  "We were setting up to record a song, …when on a break, Sean played a demo of Can You Run Out [from] his phone," the band recall. "Mikey walked by overhearing and stopped in his tracks.  'What's that? We should record that!' So, we immediately went [in] without any rehearsal.  The acoustic guitar and bongos really glue everything together, with the [guitar] sounding especially interesting because it was recorded into a cardboard box with a microphone inside."
The album opens with "Birdman," a high-octane funk-rock piece composed by Mikey, boasting a great seventies sound and fully utilizing the vintage gear found in their studio. Just thirty seconds in and Zuffalo have transported you back to a time when music was raw, and not governed or manipulated by auto-tuning or electronic effects. "Birdman shouting from a telephone wire / Birdman sounds like an evening choir / We're all the same, with different names / Birdman says it and he's unashamed." The funky beats that dominate are accentuated by monstrous riffs that enter the realms of rock (pay extra attention to the guitar solo that is equal parts Dickey Betts and Peter Frampton) and blues (there is a definite 'Whole Lotta Love' Zep undertone at play here). "Birdman take my hand / Tell me all the things that you understand / Makes us unified, tell me all the time / To fly high / Birdman play the band / Tell 'em how to get all the baddest fans / Make it funky, make it real / Real nice."
Go ahead and skip to "Flowering Rush," which will be welcomed by all fans of The Sheepdogs out there. It is too easy to picture those dueling guitars between Ewan Currie and Jimmy Bowskill here, with rolling keys that throw Seamus Currie into the mix too. As another of Mikey's contributions, his lead vocals not only adjust with ease to the rock and reggae vibe being offered here, but do so with a slight Matt Mays lilt in his tone and delivery. "Yeah the rush don't look like it's gonna itch / And you won't notice when she makes the switch / Take you head and put it on ya / Get your car out of the ditch / Look for an empty road / One where you can build the soul / Go where the water flows / Pick up the hand that loves you most." And don't think I'm glossing over Eric's superior drumming here, because he has that seventies hap-hazard, yet totally controlled beat executed to perfection to accompany Sean's explosive Jimmy Paige style solo, which itself truly shines.
Both Kim and Mikey team up to co-write and offer dual vocals for "On a Windmill," which demonstrates how this band can quickly shift their sound to almost seventies yacht rock proportions. And just when you think you have this one figured out, cue not only the change of pace, but a complete switching back and forth of tempo and intensity. "Think I've seen you here once before / Seen this window saw this door / Conversations mixed with wine / Leading to repeated lines." This is one of those tracks that will put a huge smile on your face if you see it appear on their live-performance set list. The same can be said for "Open Eyes," the album closer that clocks in at just over eight minutes, making it one of those monumental closers that the funk-blues-rock crowd simply crave (such as those extended live versions of "Ramblin' Man). Pretty minimal in lyrical content given the liberal run time, expect plenty of tempo shifts, changes in direction, a little mirth from the band, and of course, those distinct guitar-led riffs and solos to get you out of your seat and onto the floor. Golden Earring's classic track "Radar Love" was the first connection that sprung to mind when this one started up, although that could just be my own interpretation of what I heard. It's fair to say that you'll detect hints of the Allman's "Jessica" during the first solo, for sure, before Sean simmers the tempo and transitions into almost David Gilmour guitar territory. These instrumental sections are flawless and the band are clearly communicating well in their collective groove here before bringing the vocals back. And don't be fooled into thinking that this one is over at around the seven-minute mark, regardless of what your ears are telling you. Be sure to stick around for the final reprise, one that is not only completely out of place, but works beautifully to signal that closure has arrived.
Of course, if you find yourself craving more, all it takes is one quick hit of the repeat button to experience this stunning album all over again. Did I mention that already? Did I mention that you may not listen to anything else for the remainder of this month? Yeah, I know, I've lost your attention now – you're focused on this wonderful journey that is "Birdbrain" all over again. Not only is this one epic, thumping, unadulterated and energetic, it is also a simply outstanding sophomore album from this Toronto quartet, and one that is pretty much a lock for my year end album honors.
The British guy that crossed the ocean and crash landed in central Pennsylvania (to quote Greg Keelor, "And I wonder what am I doing here?"). As the youngest of four siblings, exposure to music from a very early age nurtured my passion and appreciation for many musical genres. Continuing to discover some amazingly diverse and talented musicians based in Canada, I gravitate to live music experiences and remain devoted to spreading the word about such a vibrant music scene.