"Hot blooded in the streets last night / I wasn't looking for a fight / Heart poundin' like a metronome / Semi-automatic as he's known / Wonder, wonder / Phantom Lover / I could never forget / Taste of rum and unearned whiskey / The smell of cigarettes."
During a routine sweep of the GDW email inbox, I stumbled across this submission from Toronto, ON rock band, A Short Walk To Pluto, and my curiosity quickly got the better of me. After all, it was just a few months ago doing such an exercise that I discovered another Toronto indie pop-rock act, The Manic Girls & Boys Club, and their stunning debut single "Blacked Out" – one that impressed enough to make my year-end favorite Canadian singles list. Ever hopeful to repeat this good fortune of finding a needle in a haystack, I took some time to pick up my headphones, clear my mind, and gave this new single a whirl.
If you've ever had that sensation of not knowing what you want to hear – until you hear it – this is the perfect way I can sum up my initial impressions here. I was not ready for Danny Moriana's heavy, distorted bass lines that filled the airwaves, nor the ensuing raw energy from drummer Jake Biggs and guitarist Max Kaiser – which all quickly brought my senses to life, preparing me for their final assault – the powerful delivery from vocalist Emma Armstrong. Together, the quartet combine an eclectic brand of progressive rock with catchy hooks and rhythms, creating a uniquely modern sound with plenty of confidence and swagger, and a 'voice' that has me drawing parallels to other powerful Toronto indie-rock vocalists such as Meagan Brittanie (The Savilles) and long-time GDW favorite Joan Smith.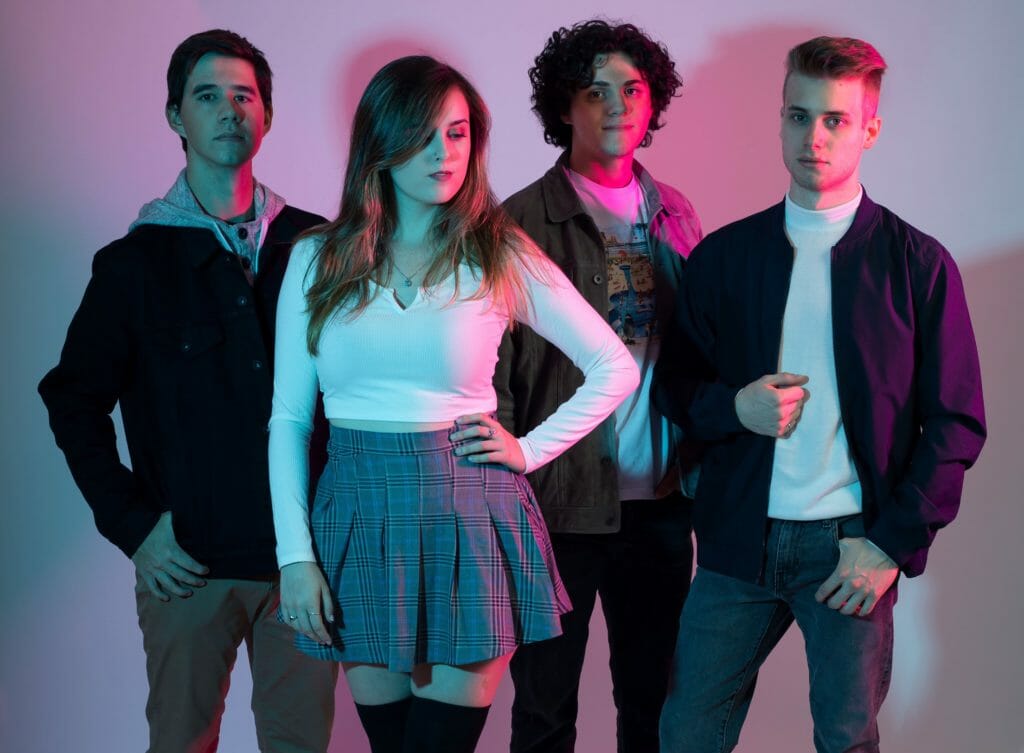 "Light headed, I'm messing around / And I like the way you hold me down / Lights go out, I can hardly stand / Coming closer, hips under command / Wonder, wonder / Phantom Lover / Nothing more than a friend / See you in my empty Chevy / On the other end."
"Phantom Lover is our heaviest and sexiest song," the band share. "Float into the smoky atmosphere. Akin to a lover that is only existent for [a] one night stand, the next morning, they're just a phantom." Formed in 2018, the band co-wrote this latest single with Brittany Weatherston – but are themselves wholly responsible for the stunning instrumental solo that follows the second verse (crank it up, and be ready to enjoy the excellent inclusion of some ambient 'chatter' – it's a nice touch). And don't gloss over the cool single artwork that the band have created. "The artwork depicts a large hand controlling an astronaut like a puppet," they explain. "Playing into sexually suggestive connotations with the grayscale appearance complementing the metal-ness of the sound."
We don't often delve into the world of underground indie music, but sometimes, digging a little deep often uncovers hidden gems such as this. A Short Walk To Pluto have landed on our radar, and are one to watch going forward – are they on yours yet?
"Mmmm, are you listening / I'm just here to leave you wantin' more / No, I'm not the girl you're lookin' for / But I'll be the one that you adore / Wonder, wonder / Phantom Lover / Who are we to pretend / Sneaking out the back door baby / You'll never see me again."
The British guy that crossed the ocean and crash landed in central Pennsylvania (to quote Greg Keelor, "And I wonder what am I doing here?"). As the youngest of four siblings, exposure to music from a very early age nurtured my passion and appreciation for many musical genres. Continuing to discover some amazingly diverse and talented musicians based in Canada, I gravitate to live music experiences and remain devoted to spreading the word about such a vibrant music scene.