It's been a while since we brought you an edition of "Snappy Snippets," but we have a pile of music awaiting our attention this month – so watch for more to come.  This time around, we bring you a variety of albums – soul, blues, terrific piano-based tunes, and indigenous rock are all represented here, so be adventurous and take a listen.
Tanika Charles – Soul Run
Listening to this set of confident, self-assured songs, it's hard to believe that this is only Tanika Charles' first full-length album.  There's no doubt she has a successful career ahead of her, with this caliber of project as a starter.  Think Diana Ross and the Supremes, but with a thoroughly 21st-century lyrical vibe and sass, and you have an idea of what to expect from this terrific project.
After a short intro (meant to sound like the beginning of a live performance, I think), the title track gets the album off to its proper, soulful start, providing a terrific groove whilst simultaneously going deeper into the need to escape from unhealthy entanglements.  "Two Steps," the next track, offers a similar lyrical theme, proclaiming that Charles (and indeed everyone) deserves a healthy relationship.  Other highlights include "Heavy," a slow burner of a tune, and "Sweet Memories," which is strongly evocative of Charles Bradley's style of soul.
If you enjoy soul music, or if you want to dip your toes into the genre if you're new to it, "Soul Run" will be a terrific addition to your music collection.
Ariane Moffatt – Le petit spectacle à La Chapelle
We here at Team GDW have been fans of Ariane Moffatt for several years now; she originally came to our attention with the album "Tous les sens" and we've followed her unique, melodic style of electronica ever since.
One of Moffatt's singular gifts, however, is an almost chameleon-like ability to take on nearly any musical style (or song) and make it her own.  She applies this talent to her own work in this intimate, live recording.  The album opens with a reflective, powerful version of "La fille de l'iceberg" (from the aforementioned "Tous les sens" album), following up with stripped-down versions of two songs from her "22h22" album, "Nostalgie des jours qui tombent" and "Debout."  Only with "Hôtel Amour" (from the bilingual 2012 album "Ma") does Moffatt begin to deploy some of her electronica genius, but the song remains a primarily piano-based beauty.
Every song on this album is a delight and an opportunity to revisit some of Moffatt's discography afresh.  If you're not familiar with her work, this is a terrific place to start – but then listen to her previous albums and discover her versatility for yourself.
Listen to "Le petit spectacle à La Chapelle" on Spotify.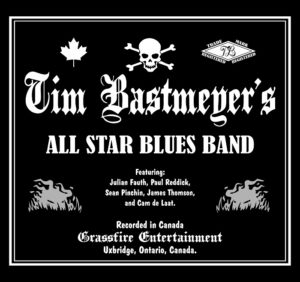 Tim Bastmeyer – Tim Bastmeyer's All Star Blues Band
Music can be a truly enjoyable solo enterprise, but it can be a whole bunch more fun when played with friends – and this is just what Tim Bastmeyer chose to do with his latest album, "Tim Bastmeyer's All Star Blues Band."  And lest you think this is false advertising, the name is exactly correct – for this project, Bastmeyer brought in Juno winners Julian Fauth, James Thomson, and Paul Reddick, along with Juno nominee Sean Pinchin.
The album is a treasure trove of blues delights.  None of the artists holds back from demonstrating their gifts – one of many examples is "Northern Boogie Blues," in which all the musicians trade some pretty sweet licks, led off by Fauth's fluid piano solo and followed by some equally splendid riffs from Bastmeyer and Reddick.  Another highlight for me is "That Woman" – not only because of Reddick's ripping harmonica solo, but also because the rhythm pairing of Cam De Latt's drums and Thomson's bass had me tapping my (non-driving) foot all the way through.
If you're looking for some high-quality blues music, played by a group of musicians at the top of their game, look no further than this album.
Listen to "Tim Bastmeyer's All Star Blues Band" on Spotify.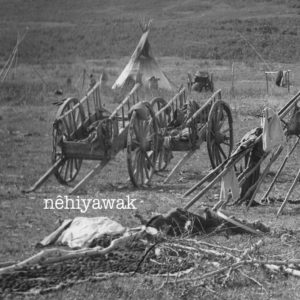 nêhiyawak – EP
Listening to CBC Radio 3 on Sirius recently, I heard a really intriguing snippet of music, a sort of synth/dream pop married to an indigenous drumbeat.  Thankfully I was at a stoplight and could note down the name of the band – nêhiyawak.  The next time I was at my computer, I pulled them up and listened to their EP start to finish – and then listened again.
My only quibble is that the EP contains only three songs – I would love to hear a full album from this group.  (One recent interview with the group hints this particular hope could come true later this year.) Their sound is creative, dreamy whilst simultaneously bringing their indigenous roots into the music in a way that's intoxicating.
"Disappear," the first song on the EP, juxtaposes an ethereal sound with a very real, very dark subject: disappearance (often involuntary on the part of people who are 'disappeared' by political regimes or militias throughout history).  "Tommaso," the second single released from the album, focuses on the relationship between Michelangelo and his assistant – not a topic usually explored in pop music, but all the more welcome for it.
I strongly encourage you to give this EP a listen, especially if you're looking for a fresh musical sound that also can stretch your mind intellectually if you allow it to do so.  I for one will be eagerly watching for an announcement that a full-length album is forthcoming.
~ L