With their latest album releasing today, Helen Austin and Paul Otten of Big Little Lions have a great deal to celebrate.  "Alive and Well" is a wonderfully optimistic and uplifting set of songs, one of those rare albums that can lift a listener's mood within just a few bars of the opening track.
Much has been made about the geographic distance between Helen (who lives in British Columbia) and Paul (who lives in Ohio), but this is not an album that projects separation – on the contrary, it celebrates unity and finding commonality in difference.  If I had to identify another common theme, it would be the realization that many of us find at a certain age that the time ahead is shorter than the time behind, and that nostalgia we often feel for our youth as a result.
"Find Your Tribe," the project's opening track, provides an engaging beginning to the album, encouraging listeners to find their home with others – whoever those others may be.  The title track celebrates the juxtaposition between feeling totally alive and recognizing the fragility of that life (and how easily it could end), while "Static" provides an eloquent reflection on that nostalgia for youth (especially when framed against the complexity that it seems our youth experience today).
"Our Turn" feels especially timely this week, releasing as it is in the wake of the Parkland shootings and the work that its incredibly articulate survivors are doing to end gun violence – it is, indeed, their turn (and the turn of all our youth) to speak and to bring change.  "Unicorn" also feels exquisitely painful in light of current events: "Wake me up when the world is sober / Tell me when this show is over."
In the first months of 2017, I read somewhere that folk music thrives both as an art form and as a prophetic movement in times of oppression and tumult.  "Alive and Well" is both art and prophecy in the best traditions of folk music, calling for unity and encouraging all of us – particularly the youth – to find their tribe, find their voice, and find their courage.  An excellent album, highly recommended.
We're thrilled that Helen Austin took a few minutes to answer some questions about the new album.
---
I'm sure you've been asked this any number of times, but how does the songwriting process work for you, given that Helen is in BC and Paul is in Ohio?
We have always written songs via email. It started that way because we had only met once before we started writing together a year later. After we spent more time together we attempted writing in the same room but it just wasn't productive with all the goofing around. One time I waited until Paul went to the bathroom before I could write a verse. So we just stick to email now 🙂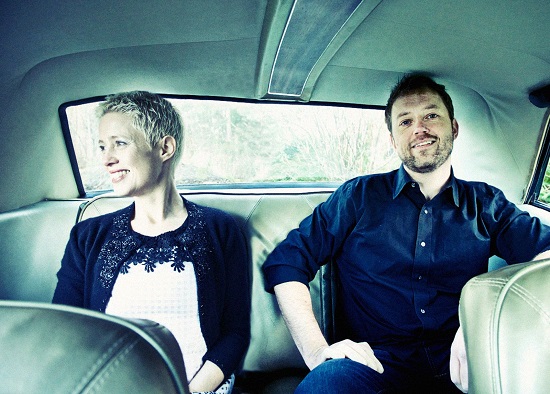 When you started working on the songs for this newest project, did you have a specific theme in mind, or did the songs sort of decide the album's character for themselves?
We didn't have a theme in mind but world situations just kind of seeped into the lyrics and we saw a pattern emerging. The increasing polarity of people was at the forefront of my mind while I was writing lyrics and even when I tried to make songs about something else it was hard to stop those thoughts from permeating the song.
The album opens with "Find Your Tribe," a really terrific song about finding the people with whom we have the most connection or synergy… given how divided we feel as a society (at least on this side of the border), the message in this song feels especially important. Is that the context in which you wrote it, or was there another inspiration?
This is exactly the context. I think at the time it was in relation to kids who were gender non specific or figuring out their sexuality. It made me realize how important it is for all of us to find people we can be ourselves with, people who make us the best versions of ourselves.
"Our Turn" feels really timely as well, given current events. Writing as you do out of two countries (albeit with similar cultures), how easy or challenging is it to write to both cultural and political experiences?
This one was easy as we both have millennial kids and this song is kind of an anthem for them. We saw how hard life can be for them with the bombardment of social media along with a generation who won't get the same security in life as their predecessors. We come from different backgrounds but I think we have the same basic desire that people should be kind to each other.
I noticed on your website that two of your songs recently were featured in a South Korean television show – how did that come about?
We both started writing music for TV and film around 2009 and this is how we met. We were both at a conference on a member success panel. We never intended to be a band, we were going to write together for TV/film placements. We now have this wonderful Publisher in LA (Riptide Music) and that is how we get all of our placements.
You have a number of dates coming up for the tour, mostly in Canada – what can folks expect when they come to hear you live?
People can expect to see us both using every limb, and then some, to make 2 people sound like a band. Paul plays drums, keyboard, keyboard bass and vocals all at the same time. I try not to be the slacker on guitar, foot percussion and vocals. It's quite the spectacle!
~ L
Visit Big Little Lions' website.
Listen to "Alive and Well" on Spotify. (and be sure to save it here, or on your favorite streaming platform!)