For many fans of Canadian indie-rock music, the mere mention of The Lowest of the Low probably conjures up immediate memories of their 1991 debut release "Shakespeare My Butt," an album that became, if only for a short while, the best-selling independent release in Canadian music history.  The Low became etched into the music scene with their melodic and catchy folk-punk tunes, with hits such as "Salesmen, Cheats and Liars," "Bleed A Little While Tonight," and "Rosy And Grey" remaining as popular today as they were over 25 years ago.
Without delving into the widely publicized 'on again/off again' history of the band over the years, The Lowest of the Low are back, and are just two weeks away from the release of "Do The Right Now."  With their first album since the 2004 release "Sordid Fiction," the band are now determined to look beyond the concept of another attempted reunion.  Even after the departure of former co-founder Stephen Stanley, The Low appear ready to commit to new musical creativity and a return to the tour circuit with brand new material on offer.  With the imminent album release party scheduled at The Danforth in Toronto, Team GDW recently spent time with founding member Ron Hawkins to discuss this much anticipated return of The Low.
---
Is it fair to say that The Low never really broke up, but opted instead for a VERY long hiatus?  Was there any particular reason for collectively deciding to reunite at this time?
Well, no. I'd say the Low broke up hard in 1994.  Given that some of us didn't speak to each other for 6 years I wouldn't call that a long hiatus.  That's called personal vendetta.  But we got past that and worked again on and off for another 13 years before Stephen decided to leave.  The hiatus that followed looked like a closing of the book… an end of the story… but time, and audience and industry interest, brought us around to where we are now, about to release the new Lowest of the Low record.  It's the first new Low record in 13 years.  I see a lot of 13's popping up. I hope that's good luck in someone's culture.
Naturally you didn't get back together to simply rehash old material.  Was the goal to reignite the shared passion and collaborate with the intent of creating new material?
Well, to be honest, we started to entertain the idea of a new Low record back in about 2011 when Pheromone Recordings guru Kim Cooke took Stephen out for lunch and asked him, "Do you think you could get Ron to write a new Low record?"  Stephen told Kim he had no idea but would give it a shot.  So the journey started there.  Over a few years the time never seemed to be right and so I released a Do Good Assassins record called 'Garden Songs' and a solo record called 'Spit Sputter and Sparkle,' both on the Pheromone imprint.  Sadly Stephen didn't survive the interim period and we only got at the aforementioned Low record in late 2016.  The new material was a factor of my regular writing practice.  I just write.  I decide what's a 'Ron' song, a 'DGA' song and a 'Low' song after the writing's done.  In fact I think Low fans might see a certain blending of styles on our new record "Do The Right Now."  About half of it sounds like classic Low stuff to me and the rest is deeply influenced sonically and arrangement wise by things I've done since with the Rusty Nails and the DGA.
Your debut album "Shakespeare my Butt" has certainly stood the test of time, remaining fresh and modern upon each and every listen.  With the advances in digital recording technologies that now exist, how did this impact or add to your creativity when putting down the new tracks in the studio environment?
It's always an honour and a privilege to hear that Shakespeare has stood the test of time…that something in it resonates over the years.  But to be honest I have a hard time listening to it because what I hear is naivete and a certain unrealized striving.  It's not the record I pictured in my head, if I can even truly be certain what I intended.  It sounds amateurish and I don't feel the weight behind my voice that I feel exists there now.  As for technological advancements, I like to use them to serve the songs so I still really approach recording the way I did when I was 18.  The magic has to be happening on the studio floor long before the tape machine or digital cursor is rolling.  "You can't polish a turd," as they say.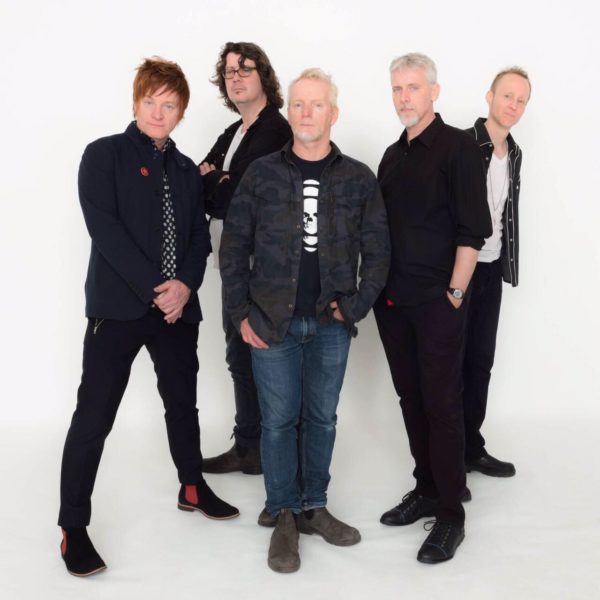 You recently sampled the first new track "Powerlines" from the upcoming album.  Was the decision to determine the first single a collective agreement, or a much debated 'until we all agree' scenario?  What is it about this track that made it stand out as the lead-off single for you?
This one seemed to be a pretty unanimous choice.  "Powerlines" is a song about my experiences writing the first Low album, "Shakespeare My Butt."  I had recently broken up with a long time partner and moved into a punk rock squat with some crazy characters I called friends.  Every day I walked through the city with a notebook and drank in bars and went to galleries and shows and hung out in my little bohemian circle of anarchists, punks and poets.  I became the protagonist in the movie of my life and the city was a cinematic sidekick and factored into the lyrics like a companion.  The feeling that I might be writing an album that was a spiritual successor to Shakespeare was very much alive while I wrote "Do the Right Now."  I liked the idea of 52-year-old me having a conversation with 25-year-old me.  So themes like revolution, commitment, loyalty, and heartbreak appear on this new record a lot, as does the city – a location in which these dynamics can unfold.
When we saw you live in London, ON last month, you mentioned that "Something To Believe In" was originally destined for the debut album, but ended up on the cutting room floor. What prompted the idea to resurrect this track and give it a new lease of life?
When I presented a list to choose from we got up to something like 20 songs.  "Something To Believe In" was on the list and a couple folks said "Wow, why didn't we put that on Shakespeare?!"  I think it might be because it had been written at the very end of our previous band Popular Front and I felt it was part of that band's story and didn't have a place in the Low because we were moving forward.  Those steps always feel enormous when they're right in front of you but often with some distance (let's say two decades or more) you realize how myopic you were being.  With this song cycle it seemed that STBI fit right in with the theme and feel of the newer songs.
Fan reaction to the reformation of The Low has been very positive across social media.  Of course, social media works both ways, and is a great outlet for you to spread the word and build the anticipation.  Has this provided a new direction for promotional purposes, and has the buzz across social media reacted positively to 'having to wait until September'?
As far as I see it social media is just postering telephone poles "in the box."  I miss being chased down alleys by the cops with a bucket of flour and water in my hand.  But social media is obviously a powerful and democratic tool that artists can use.  Ironically, the problem with democracy sometimes is that you then struggle to be heard over the crowd.  To reach people through the white-noise of the internet is a real common struggle for contemporary artists.  Responses have been very positive over social media and have also been super positive in person as well.  It's a sad day when founding members leave a band, but you are then tasked with the challenge of staying true to the spirit of the band and to the fan-base that got you there in the first place.  It's been an honour and a blessing to hear the kind of support and encouragement that people have expressed over the last couple years as we've moved the band forward into the future.
What can you tell us about the most recent additions to The Low, Derrick Brady and Michael McKenzie?
Derrick Brady has been a fixture on the Toronto music scene since the eighties and is a true lifer.  He's played with me in a few bands (the Rusty Nails, the Do Good Assassins and now the Low).  He's an extraordinary musician and a completely solid comrade on the road and on stage.  He is one of the musicians I most respect over this long journey I've been on.  Michael McKenzie is a fantastic guitar player and runs a music school for kids.  He also comes from the same vintage.  Some may know him from Universal Honey.  He's a stalwart band mate… up for anything, and a lot of fun to jump in the van with.
I must say that we are very excited about the upcoming album release party at The Danforth in September.  Is there any reason why you chose this particular venue?  An affinity to the club or simply due to availability?
The band has never played the Danforth Music Hall before.  We've seen lots of other bands there and respect the old place immensely.  We had kicked around the idea of a 6 day "pub crawl" which we have done on several occasions and for other releases, but settled on the idea of the Danforth because it felt that much more grand… almost like a little Massey Hall.  We felt the new record deserved a more impressive release.
I see more shows announced, and some teasers about others in the works.  Are you hoping to take this new release tour across most of Canada?  Any plans to extend your tour beyond the Canadian borders?
Yep, we're in it for the long haul.  Which means touring across Canada and the United States.  Canada presents regular eight or ten hour drives between cities and venues.  We've done it a thousand times but still manage to be pumped about taking this new show on the road.  The intention is to tour as many cities as will have us.  And not just restricted to North America – Australia, the UK and Europe are all on our potential agendas as well.  The day I lose that desire and drive is the day I'll hang it all up.
On a lighter note, and on behalf of all Low fans out there, I have to ask: (i) Did Jasmine never learn and make that mistake again? (ii) Did Alex ever finally get what she wanted?  (iii) And, did poor Henry ever, ever get his new shoes?
As a friend of mine often says "people don't change… they just get more so."
When I knew Alex she didn't know what she wanted. Hopefully she knows now and has found it.
I can't really say. I moved from that part of town many years ago and don't know what became of him. I have to say though that I have seen a few incredible clips online of people performing beautiful acts of kindness for people less fortunate than themselves, and they often do it through footwear.
Team GDW would once again like to thank Ron Hawkins for spending some time with us and providing this wonderful insight to the forthcoming album and tour.  "Do The Right Now" is available in Canada on September 8th, and the release party takes place at The Danforth Music Hall in Toronto the very next evening.  We look forward to this experience, and urge everybody to get out and catch the Lowest of the Low should they roll into a town near you.
~ M
Photo credit: Robert Ciolfi, Quietlife Photography
Visit The Lowest of the Low's website.