Earlier this month, our Video Vault feature included a stunning interpretation of Blondie's "Dreaming," recorded by Toronto, ON alt-pop artist Juliana Eye – and boy, did this inclusion ever open a much larger can of worms for us. Our email inbox suddenly filled up with many more covers of songs from across the decades – pushing this beyond the realm of pure coincidence – but after spending a little time sifting through them, a pattern started to emerge as these individual dots suddenly became connected.
Several Toronto based artists (both emerging and established) were approached by A&R maverick Graham Stairs, who proposed an artistic vision of not only creating his own record label and management company, but also floated the concept of "Coverama," a compilation album featuring these musicians to create fun and innovative renditions of classic pop and indie songs. With a selection of such covers shared over the last few months, the full album is formally released today, via Popguru Sound & Vision's boutique label, 'The Confidence Emperors, and is stacked with some amazing talent.
Those teasers that landed in our email certainly got under my skin quickly, and I was hooked on this concept. As a result, I am eager to invite everyone to seek out and enjoy this album (if covers are your thing), but if you need a little more to convince you, here are four examples of great reinterpretations you'll find on this unconventional release.
Sam Casey, "I'd Rather Go Blind"
When presented with the opportunity to record a track for "Coverama," emerging Toronto singer-songwriter Sam Casey had no doubts as to which classic popular song she would elect to cover. Having worked on this rendition while navigating her own life challenges, Sam invested those experiences into revealing a sense of loss in the track, mirroring Etta James' raw and vulnerable original. "I have been performing [this] for years in bars around Toronto as it is one of my favourite songs and lyrically hits me at my core," she offers. "To be able to record an original rendition of the track that fits my exact feelings when listening to the lyrics was a dream and a privilege. The feelings that emanate from this song are so human and deep inside that singing this can bring me to tears. I can only hope listeners will feel this same connection." Note the electric guitar that plays a key role in the making of this version, with many of the ambient instruments being percussion and synths, all played remotely by UK producer Joe Thompson and shared via email exchanges.
Alex Exists, "Rock On"
Never in my wildest dreams did I consider that the music of British singer-songwriter David Essex could be considered 'cool' by the next generation of new-wave artists – and we're not simply talking 'karaoke bar' cool here, but all out '2022 reimagined' cool. After all, I grew up in the UK and was subjected to his music spinning on the family turntable in the early 70s – music I promptly distanced myself from as I aged (and still do, to be honest). So, to learn that his popular hit "Rock On" was the song chosen for inclusion on this compilation by emerging Toronto neo-glam rocker Alex Exists, well, 'stunned' is an understatement. "This record was a challenging and fun exercise in rock and roll post mortem revival. If I was going to do a rendition of a golden age rock and roll classic, I knew I had to launch it into orbit with an unexpected modern twist," Alex shares. "I was inspired by this idea that if aliens came to earth, years after rock and roll had died, found this record, fell in love with it, took it back to their planet and started making their own interpretation of it, how might it sound?"
Martha And The Muffins, "Save It For Later"
This iconic Canadian band, best known for their international 1980 new-wave hit, "Echo Beach," contribute a pair of tracks to this project, one of which is this inventive cover of The English Beat's classic, "Save It For Later." Emerging from Toronto's early punk/new wave scene in the late 70s, founding members Martha Johnson and Mark Gane continue to record music, and were inspired to share this particular piece. "We originally recorded Save It For Later,[and] between Martha's vocal arrangements and our guitars and keyboards, there are a lot of additional little hooks that didn't exist in the original that we think makes our version almost like an early Martha and the Muffins song," they share. "We hope we've captured and translated the free-wheeling spirit of the Beat's original song in our version." With the accompanying music video, the band wanted to avoid a performance video, opting instead to create a colorful and interesting visual collage – collecting a lot of little objects from home and random images from the internet, working intuitively to weave it all together.
TANDM, "Accidentally In Love"
This rising Toronto duo offer up their own unique interpretation of "Accidentally in Love," an infectious Counting Crows tune that many already associate with the Shrek 2 soundtrack. "When Thomas [Franklin] and I were approached to cover a song, we spent hours digging through songs that we had considered covering in the past," shares vocalist-guitarist Maxine Beck-Sinderby. "[This] song is full of sunshine and happiness, and currently (with COVID-19's never-ending misery) we decided that Accidentally in Love would make for a very optimistic and hopeful cover that could brighten up our lives as well as others." Drawing their musical inspiration from the likes of Alvvays, The Black Keys, and Of Monsters and Men, TANDM soon developed a signature sound marked by Maxine's silky vocals and catchy reverb-filled guitar riffs, driven forward by the energy of Thomas's drum flourishes. Check out the stop-motion music video, which uses strawberry ice cream in reference to the lyrics as well as a way to show time passing throughout the song.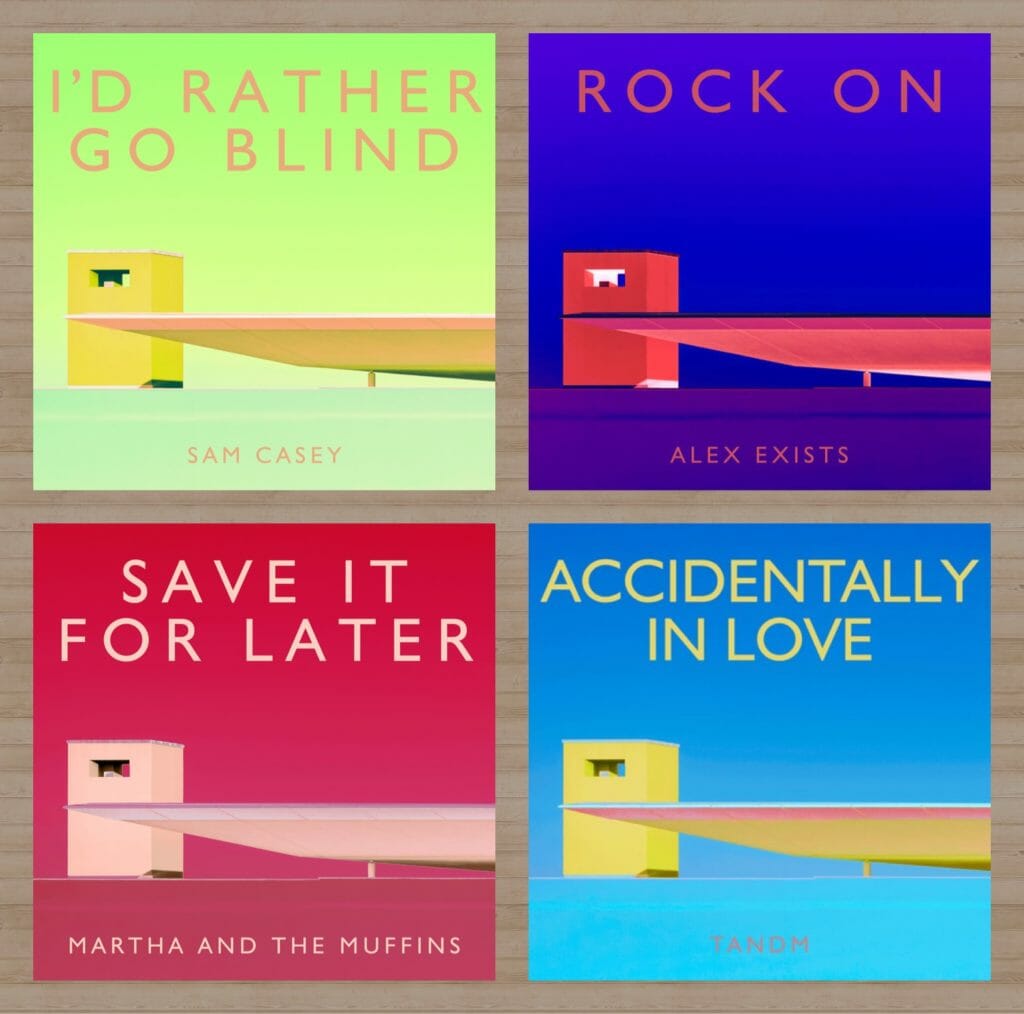 Looking to learn more about other contributors to this project? Check out the track listing below:
John Orpheus – "House Of Cards" (Radiohead)
Alex Exists – "Rock On" (David Essex)
Martha and the Muffins – "Save It For Later" (The English Beat)
Juliana Eye – "Dreaming" (Blondie)
Sam Casey – "I'd Rather Go Blind" (Etta James)
Ghost Caravan – "Girls Talk" (Elvis Costello)
Chloe Kay – "When Doves Cry" (Prince)
Martha and the Muffins – "For What It's Worth" (Buffalo Springfield)
TANDM – "Accidentally In Love" (Counting Crows)
Will Whitwham – "God Only Knows" (The Beach Boys)
For those of you in and around the Toronto area tomorrow evening, several of these artists shall participate in the "Coverama" album release celebration taking place at The Drake Underground (1150 Queen Street West). If you happen to go, please tag us on social media and share some of the activities.
Link for tickets: https://www.eventbrite.com/e/coverama-album-release-celebration-tickets-314894466827
The British guy that crossed the ocean and crash landed in central Pennsylvania (to quote Greg Keelor, "And I wonder what am I doing here?"). As the youngest of four siblings, exposure to music from a very early age nurtured my passion and appreciation for many musical genres. Continuing to discover some amazingly diverse and talented musicians based in Canada, I gravitate to live music experiences and remain devoted to spreading the word about such a vibrant music scene.